Team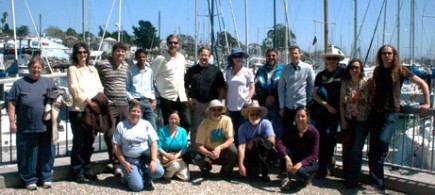 Our team is built on specific experience and talent requirements that add key insight as we create products to suit our customer needs. As a hard-working, dynamic crew, living in Santa Cruz provides us with the backdrop that makes life well working for.

Michael Leppitsch
Michael serves as Founder and CEO of Gridata, bringing 17 years experience delivering enterprise solutions in energy industry. Michael served for 6 years as CEO of Power Catalyst, Inc., a boutique consultancy delivering fixed-price data warehousing and business intelligence solutions to grid operators and utilities. Before that, Michael advised investment banks in the acquisition of power plants during California's wholesale power market deregulation, built business cases for large direct access customers, and helped the first independent power exchange grow from 10 to 130 people. Michael is committed to creating the conditions for sustainable communities.
Michael Gardner
Mike is Board Chairman at Gridata. Formerly VP at Ketera, and LiveOps, and with senior positions at eBay and Borland, Mike brings a steady hand to the governance and strategic direction of the company. He also provides industry-leading expertise in massively scalable data store architectures, managing SaaS platforms and business models, and Web 3.0 business applications.
Robin Nijor
Robin serves on Gridata's Advisory Panel to the Board, with a focus on Business Development & Marketing Strategy. Robin has a proven track record of success with Silicon Valley startups. As Vice President of Sales & Marketing at both Starfish Software and LightSurf Technologies, Robin took the companies from startup to successful acquisitions of $250M and $300M, by Motorola and VeriSign, respectively. Robin worked at Logitech during its formative years helping grow the company into an internationally known consumer brand. His passion is advising startups comprised of talented, engaged teams in finding focused strategic direction.
John Nunneley
John is Gridata's Standards Architect, and assures technical alignment with emerging industry standards. John also serves as Executive Director of the Sunspec Alliance, and as an SGIP Board Member. John is a prolific creator of energy communications and integration standards, and successfully builds concensus around their adoption.
Susan Cannon
Susan is Engineering Manager and Security Architect at Gridata. Formerly with SanDisk, Liquid Audio, General Magic and Sun Microsystems, Susan holds several patents in security as a result of her contributions to these ventures. As Senior Engineering Manager at SanDisk, Susan led development of secure flash memory solutions in the emerging consumer and enterprise markets working with partners such as Microsoft, Verisign and RSA. Susan joined Liquid Audio, as an early stage start-up, where she headed up the team responsible for the first commercial internet music distribution system.
Beth McCanlies
Beth is a key Software Architect at Gridata. Formerly with VeriSign, LightSurf, Cadence, and others, Beth provides software vision and expertise across the breadth of software environments from embedded to enterprise systems, and from personal embedded clients to high-traffic always-available scalable enterprise servers. Along with her experience in SOA and embedded architectures, Beth brings to Gridata significant experience in data modeling and data persistence architectures.